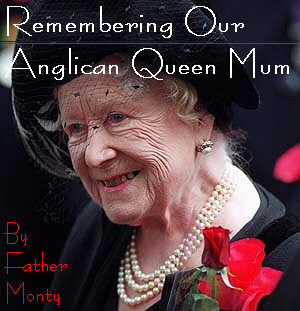 Remembering Our Anglican Queen Mum
By Father Monty
En Español | In Spanish


The day that our Queen Mum died was a day we all dreaded would
come like it did on March 30th, 2oo2. But our sorrow should not
be for her death, but rather our gladness that we as a British peoples
knew her so well and that she knew us so well, too. Close to 102 -- this
coming August 4th -- our beloved Queen Mum will not be forgotten then
nor now nor in the history of our nation. With the deaths of Diana and
Margret Rose, we must remember that our Queen Mum endured the
passing of so many in her own long lifetime. Her most recent sorrow of
the death of her own daughter Margret Rose must have been truly deva-
stating for her of all the deaths she has known of others, with the
exception of her beloved husband King George Sixth.



Thus, her own passing now brings final rest to her that she surely deserves
after a life of over one century. While I never saw or met her personally,
I considered Queen Mum to be part of my life. She was like an old friend
of yesteryears at my own age of 58. I remember first seeing her on telly, I
think, at the time of the 1953 Coronation of her princess daughter Elizabeth.
I remember that day so well, because it was such a jolly nice day for me and
everyone. And, everybody at Wolverhampton Road seemed so very tickled-pink
over the young Queen's coronation. I was just a little grubby and a cheeky,
even rough, Staffordshire boy of nine years of age back then.



Who would have ever thought then that I would now be memorializing our
Queen Mum's death at the dawn of 50 years later from far away America?
Certainly, least of all me! I am, after all, just a lowly lettered lad of poor
Midlands stock. Yet Queen Mum, over all those years and from those now
far away times, has but steadily grown in my heart. She represented for me,
and perhaps for many like me, the Historic England that I once knew that has
now long since disappeared to the modern digital age of the internetization
of our world. Such is now the case, but the pure power of bittersweet
sentimentality still overpowers me whenever I think of England and our
dear Queen Mum. I will remember her especially well for all of what
she once truly represented to me and to those of her countless and
avid admirers from the Old and New World. Her royal biography
has now forever ended at the day's close of the regal and
glittering long life of our Dowager Queen Mother.



The passing of our beloved Queen Mum now marks the close of the English
20th century, completely for me. How glad I am that I have lived to see the
life of Queen Mum and to have known of her decency and courage that
has been the essence of our true British character and breeding -- no
matter whether we are of high or humble stock by our own birthright.



Thank you Queen Mum for having been so British and having held the
British Throne with that Anglican grace and dignity all of your very own.
I mourn quiet at your passing, but rejoice that you came our way and tarried
with us for a long while to make all England so proud! Bless you, my dear!
And, so go and rest now with us forevermore at England's green and
pleasant land. The royal crown speaks of you like the goodly Queen
you have been. Bravo, Your Majesty!!


©2oo2|fathermonty. org|scalawagz.org|padremonty.org|archbishops.org|episcopal.cc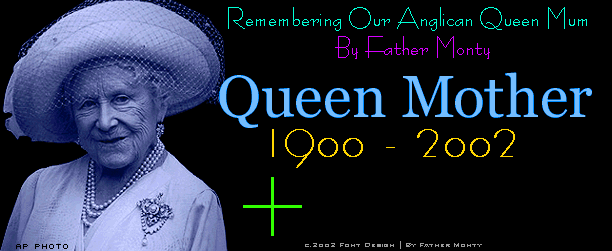 The partial text of Father Monty's article first
appeared on Britain's ANANOVA World News and at
Canada's CBC Television Royal Memorial Forum.

The Father Monty Foundation Frontpage
Queen Mum at Her Centennial Birthday
Por Padre Monty
English| Español



Draped in her personal royal standard, the Queen Mother's coffin was
taken from the Royal Chapel of All Saints at Windsor to the Queen's
Private Chapel at St James's Palace in the heart of the English Capital.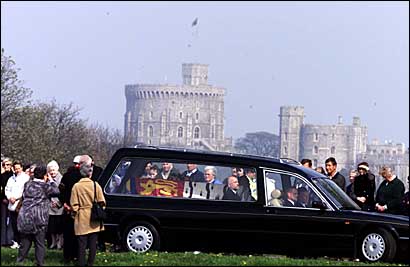 X
XGeorge CareyX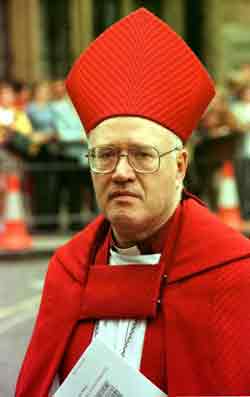 Statement from the Archbishop of Canterbury,
The Most Rev'd & Rt. Honourable +George Carey, on the
Death of Her Majesty Queen Elizabeth, The Queen Mother
X
The Archbishop of Canterbury expressed sorrow and a sense of
profound loss following the death of Her Majesty the Queen Mother.
X
Speaking on Saturday evening in Canterbury he paid this tribute:
X
"We are all the poorer because this gracious lady has been taken from us.
Her unfailing dignity, devotion to duty and charm have been a precious part
of our national life for as long as most of us can remember. She was deeply
loved by people of all ages; whilst older people will remember best the
courage which she and King George VI showed during the War,
every generation has taken her to their hearts."
X
"She had a deep and sustaining faith and lived her life in the sure and
certain hope of the resurrection to eternal life; a resurrection which we
celebrate at this Eastertide. Christian love shone through her character."
X
"Even as we mourn her passing, we commend her confidently to God's
keeping and give thanks to him for the very special contribution she
made to the life of the nation and around the world."
X
"We pray that God will comfort Her Majesty the Queen
and the rest of the royal family in their bereavement"
X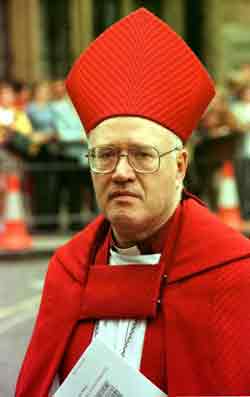 LAMBETH PALACE
31 March 2002
X
The ACNSlist is published by the Anglican Communion Office, London.
Send QUESTIONS or COMMENTS to acnslist@anglicancommunion.org
You can subscribe/unsubscribe online at
http://www.anglicancommunion.org/acns/subscribe.html
ACNS mailing list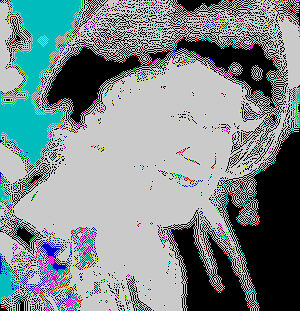 Prince of Wales pays tribute to 'darling grandmother'
Tributes to Queen Mum from ordinary folks
Queen Mum's Fortune at £60 Million or over $100 Million
X
A lovely weblink on Queen Mum:
http://www.queenmother.org/
X
IN-DEPTH SPECIAL ON QUEEN MUM'S LIFE
By CNN WORLD NEWS
X
Recordando A Nuestra 'Mum'
De la Reina De Anglicana
Por Padre Monty
En Español | In Spanish

Anglican Order of Service for the Burial
of Our Queen Mother
April 9th, 2oo2, at 11.30AM,
Westminster Abbey, England
X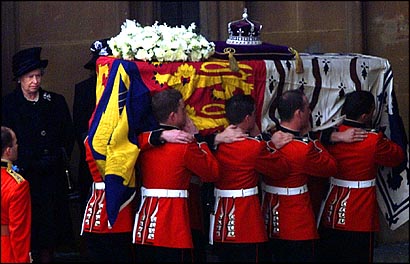 English Funeral Traditions | Sacred Mysteries
An Opinion
British revel in their own capacity for mourning
By Julia Stuart
X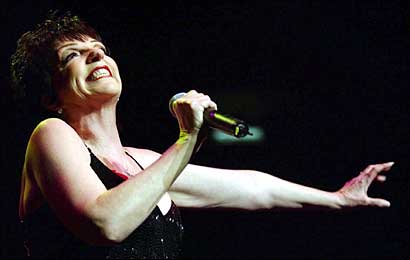 Liza Minelli, 56, the daughter of the late Judy Garland, paid her
opening night tribute to the Queen Mother at England's Royal
Albert Hall, where Liza began her first European tour in many
years. She sang Dame Vera Lynn's song "I'll Be Seeing You,"
which was a favorite of Queen Mum's. There were numerous
standing ovations throughout the evening, reports ANANOVA.
American Liza Minelli has previously performed for the late
Queen Mum and the British Royal Family like did her
own dear mother Judy Garland, who died in1969.
X